MultiPicture Live Wallpaper
0.6.11
Live Wallpaper – Have Multiple Wallpapers for Each of Your Screens
Are you bored of having a static wallpaper on your Android phone? Do you want each screen of your phone to have a wallpaper of its own? If yes, then this live wallpaper is an ideal choice for you. MultiPicture Live Wallpaper is a cool app which gives you the chance to have a separate photo as the wallpaper for each screen of your phone. It enables you to switch your wallpapers at will. If you aren't happy with any of the wallpapers, you can just tap on the screen twice and it will be replaced with another one immediately. Thus, you can enjoy multiple photos as your phone's wallpaper and keep on refreshing the screen's look whenever you want.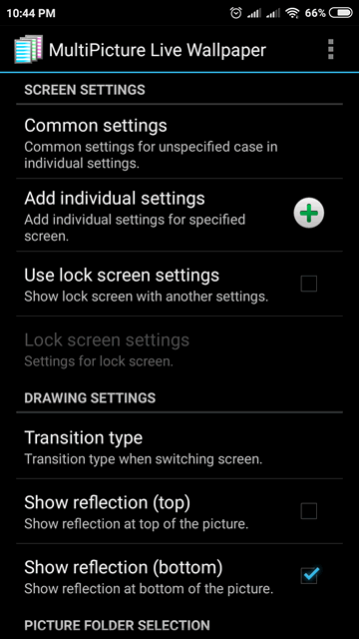 MultiPicture Live Wallpaper doesn't have an icon so it can be a bit tricky to open the app. However, you can reach the home screen of the app and set the live wallpaper by going to its page on Google Play. You can also accomplish this task by accessing the Live Wallpaper menu of your phone. On the home screen, you will find two buttons located at its base. These two buttons are Settings and Set Wallpaper. You will also get the chance to preview the live wallpaper on this home screen too. If you are happy with the wallpaper, you can apply it by tapping on the Set Wallpaper button. You can make changes to the app by clicking the button labeled Settings.
This Live Wallpaper app gives you a ton of customization options. You can make changes that you want to the wallpaper's appearance in the Settings menu. Here you will get to decide the source of the pictures that are going to be used as the wallpaper for each of your phone's screens. You can choose the source either from your phone's internal storage or SD card. There is also the option available to have photos from a web album used as the wallpaper too. However, do keep in mind that you need a plugin for this purpose which you will have to download separately. Moreover, you will also need to have an internet connection to continue displaying the photos as the wallpaper.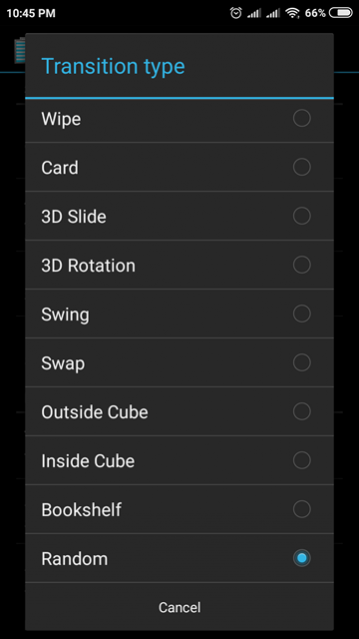 MultiPicture Live Wallpaper offers a variety of transition effects to you as well. These effects can help you in making screen transitions more interesting. You can find the list of transition effects in the Settings menu too. All of these transition effects are unique and can give the live wallpaper something new each time you pick a new one. Aside from the transition effects, there are background colors available as well. You can change the background colors for each wallpaper as per your choice. Moreover, you can decide the number of screens you want to have for your phone from the Settings menu of this live wallpaper too. Do keep in mind that this app might not work on some devices.
Features:
Lots of customization options
Choose photos from different albums
Option to select the photo source
Change wallpaper with a double tap on the screen
Have different wallpaper for each screen
Lots of screen transition effects to choose from
Choose from a variety of background colors
Conclusion:
MultiPicture Live Wallpaper is an app which is ideal for people who don't like having one wallpaper for all of their phone's screens. It lets them have the chance to have an album of photos as their phone's live wallpaper that cycles through the different photos at your behest. It is definitely an app worth having on your phone if you like having live wallpapers on your phone.
---
Add a review
Tell us your experience with
MultiPicture Live Wallpaper
0.6.11
RELATED PROGRAMS
Our Recommendations
---
---
---
---